THE MOST POPULAR ULTRASONIC CLEANING MACHINE FOR GRINDING SHOPS
MACHINE PARTICULARLY SUITABLE FOR SHARPENING WORKSHOPS. ITS DIMENSIONS ALLOW THE QUICK AND EASY CLEANING OF CIRCULAR SAWS, CUTTERS AND SMALL BLADES.
SOLID STRUCTURE MADE ENTIRELY OF 2 MM STAINLESS STEEL.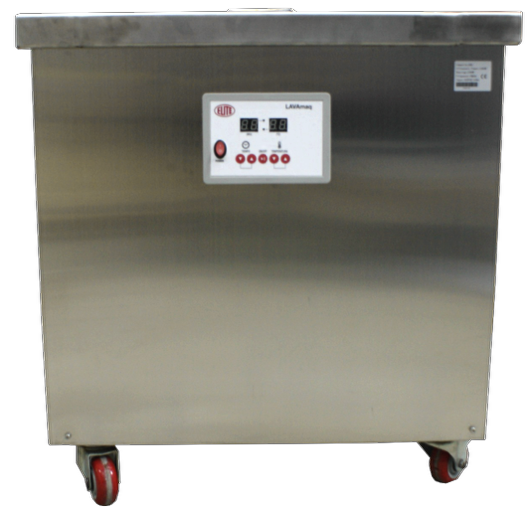 HIGHLIGHTS
EASY TO USE: Control panel with on-screen guided instructions
Made of high quality stainless steel plate with a thickness of 2 mm.
Water heating temperature adjustable up to 60ºC
Timer for automatic machine shutdown
Tool holder included
Emptying system for quick and easy change of the liquid
ELITE LAVAmaq 60. MACHINE BASIS.
The Elite LAVAmaq 60 provides a tool cleaning system which is the most aggressive washing system therefore also the one that best cleans. Discs or tools are completely immersed in the tank and the wash cycle is activated, which consists of water temperature (about 60°C) and ultrasound vibration.
If the tool, for example a disc, can not be completely submerged, one half of the disc can be washed in one wash cycle, and in the next cycle wash the other half. a quick and easy way.
Insert the tools in 5 to 10 minutes and remove them completely clean.
---
ELITE LAVAmaq 60. HOW IT WORKS
Machine overview
Loading of tools
Circular saw blades cleaned
---
LAVAmaq 60. SPECIFICATIONS
| TECHNICAL DATA | LAVAmaq 60 |
| --- | --- |
| Internal dimensions | ø450x300x450 mm. |
| External dimensions | ø610x460x600 mm. |
| Digital generator | Yes |
| Generator power | 1000 W |
| Heater power | 1500W |
| Water temperature | Adjustable up to 60ºC. |
| AVAILABLE VERSIONS | | |
| --- | --- | --- |
| Model | Net Size | Packing Weight |
| LAVAmaq 60 | 610 x 460 x 600 mm. | 55 Kg. |
---
DOWNLOAD LEAFLET
---
MACHINES COMPARISONS AT A GLANCE
| MODEL | CLEANING SYSTEM | MAX. Ø CAPACITY | CLEANING AGENT |
| --- | --- | --- | --- |
| LAVAmaq 1150 | Hot water driven by pressure jet | Up to ø1100 mm. | Biodegradable with tool corrosion protection |
| LAVAmaq 910 | Hot water driven by pressure jet | Up to ø900 mm. | Biodegradable with tool corrosion protection |
| LAVAmaq 780 | Hot water driven by pressure jet | Up to ø750 | Biodegradable with tool corrosion protection |
| LAVAmaq 60 | Ultrasonic vibration with hot water | Up to ø450 mm. | Acid |