OUR FASTEST TCT CIRCULAR SAW BLADES SHARPENING MACHINE
HIGHLIGHTS
EASY TO USE: Control panel with 10" color screen with guided instructions
LOW MAINTENANCE: Hydraulic free for trouble free maintenance
5 CNC axes for automatic work
Double grinding wheel for face + top grinding in one preparation
Automatic sharpening of the top and face of circular saw blades with carbide tip
Very compact machine with a wide range of disc diameters: from 100 to 850 mm.
ELITE AVB 850. MACHINE BASIS.
The ELITE model AVB 850 is our new and fastest sharpening machine for the top and the face of all common tooth geometries in circular saw blades with carbide tip for circular blades diameters from ø100 to 850 mm.
With 5 CNC axis for a complete machining of all common tooth geometries in one cycle, the short travel paths ensures a fast grinding operation.
It uses the famous system with peripheral grinding wheel to achieve a saw blade with a a very smooth cutting edge.
The optimal cabin design ensures an easy saw blade adjustment.
---
STANDARD TOOTH SHAPES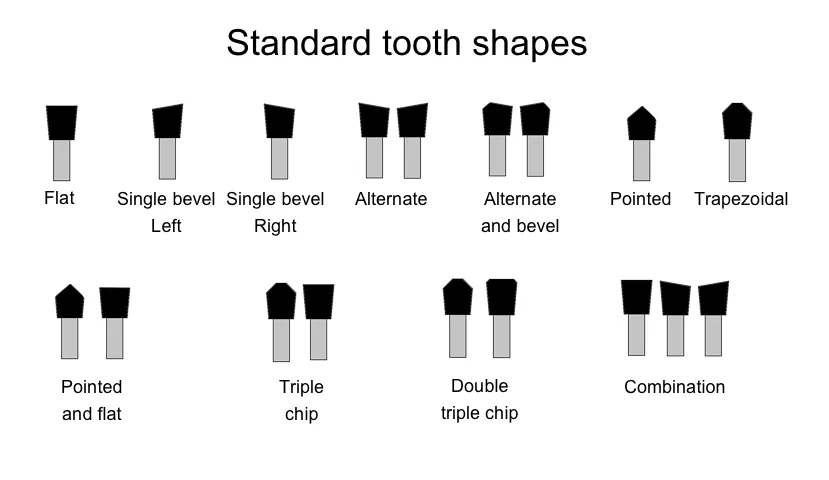 ---
ELITE AVB 850. HOW IT WORKS
Easy to use control panel
All the functions of the buttons are explained in the buttons with ilustrations. And every button is intended to do a single task. So you know what to expect from a button press.
The control panel with LCD screen allows the programming of the machine, among the programmable values are:
Tooth angle programming: The grinding wheel axis will automatically move to the value entered in the program.
Sharpening path
Sharpening load
Sharpening speed
Tooth pitch
Advancement speed of the tooth advancement claw
Number of teeth
Broken teeth
Grinding wheel rotation speed variable from 2.500 to 5.000 RPM
Our machines include the variable frequency drive as a standard feature, so you can adjust grinding wheel speed at the optimal value and also reduces energy consumption.
Easy maintenance
The electrical cabinet is organized in a clean manner, so the maintenance is easy when you need to do it.
---
ELITE AVG 850. SPECIFICATIONS
| TECHNICAL DATA | AVB 850 |
| --- | --- |
| Saw blade outside diameter | From ø100 to ø850 mm. (4" to 33,5") |
| Saw blade bore diameter | From ø10 mm. |
| Blade thickness | Up to 8 mm. |
| Tooth pitch | Up to 120 mm. (4,72"). CNC controlled |
| | |
| TOP GRINDING | |
| Clearance angle | From +5º to +35º |
| Bevel angle | From -45º to +45º |
| Grinding path | Up to 25 mm. |
| Available tooth shapes | Flat (F) - Single bevel (L/H or R/H) - Alternate (AT) - Alternate and bevel (HGB) - Pointed tooth (PTR) - Trapezoidal (TRZ) - Pointed and flat - Triple chip (TCH) - Double triple chip (D/T/C) - Combination (SLR) |
| | |
| FACE GRINDING | |
| Hook angle | From -10º to +35º |
| Grinding path | Up to 25 mm. |
| Available tooth shapes | Flat - Single bevel (L or R) - Alternate - Combination |
| | |
| OTHER DATA | |
| Grinding wheel motor | 0,33 kW |
| Grinding wheel speed | Adjustable from 2500 to 5000 RPM |
| Grinding wheel diameter for top | ø125 mm. |
| Grinding wheel diameter for face | ø175 mm. |
| 5 CNC axis | X: grinding load / C: Angle of tooth chamfer / Z: grinding pass / A: tooth pitch / B: tooth cutting angle |
| Machine dimensions | 1410x 1225 x 1800 mm. |
| Machine weight | 640 Kg. |
---
DOWNLOAD LEAFLET
---
MACHINES COMPARISONS AT A GLANCE
| MODEL | TOP GRINDING | FACE GRINDING | BACK OFF GRINDING | SIDES GRINDING |
| --- | --- | --- | --- | --- |
| AVB 850 | All tooth shapes | All tooth shapes | No | No |
| SVG 850 | All tooth shapes | Flat teeth | No | No |
| MD 650 | All tooth shapes | All tooth shapes | No | No |
| MVB 850 | Flat teeth | Flat teeth | Yes | No |
| GBT 850 mono | No | No | No | Yes: One side at a time |
| GBT 850 DUO | No | No | No | Yes both sides at same time |
| GBT 851 DUO | No | No | No | Yes both sides at same time |